Custom Framing in Richmond Virginia • How to Find the Best Frame Shop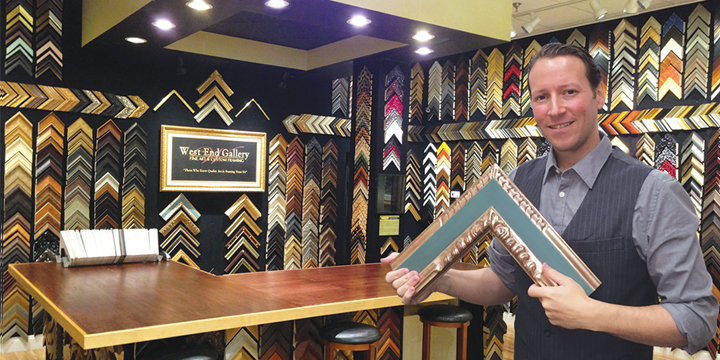 When it's time for custom framing in Richmond, VA, selecting the right framer is similar to choosing a favorite hair stylist or doctor. And just like those professions, some are better, or more in-tune with you than others.
Richmond, Virginia has a plethora of frame shops. What sets West End Gallery apart for custom framing is our very, very long family history in the trade.
"When my father first started our family business in 1967, there were a lot of frame styles, but now in 2016 we offer an exceptional array of designs that no one could have envisioned fifty-years ago" says Chris James, Owner of West End Gallery.
Custom Framing in Richmond: The Personal Touch
When the owner Chris James began working in the family business in the 80's, his father taught him all the ins-and-outs of custom framing that he knew. Over time he improved and elaborated on that life-long experience, and today offers not only unique high quality frames, but also design advice to match.
When the family business moved in 2001 to Richmond, Virginia and moved again in 2011 into an expanded space in the Short Pump area, Chris found that customers really appreciated three things:
1) True expert design and care for all forms of artwork that is acquired over a lifetime (or two).
2) An array of frame options in all price ranges, allowing customers to find the right choice for the budget they have in mind.
3) Extremely high standards in quality of the final product.
"Each project brought to us is unique for the customer, but luckily over so many decades of personal experience, it is likely a project we have seen countless times, and we have multiple visions for how to accomplish the customer's design goals".
"When a customer has a strong opinion such as 'I want a bright red mat on top', we gladly show them, but we will also express any concerns that we may have and ask if we may show another option for them to select from. Sometimes a bright red mat on top may look good, but more often than not it may overwhelm the artwork, so when they allow us to show them more options from their original vision, they are often very glad we took the time to do so. We are always upfront and honest with customers, and we will volunteer our design advice to ensure that the customer, in the end, loves their custom framed project".
Additionally, because West End Gallery's custom framing counter is within the art gallery space, the gallery walls are full of fine framed artwork, all of which is selected and framed by West End Gallery. When someone is considering a large Italian olive wood frame on their artwork, there is likely a painting with that frame or a similar one on the walls. These examples are invaluable and enhance the vision for customers when selecting framing.
Whether looking for simple, formal, elegant, contemporary, traditional, ornate or rustic frames (or any mix of those) West End Gallery's selection of thousands of custom frame options is sure to wow the senses.
We Are Your Local Solution to Framing
There is no need to search any further: you have found the best frame shop in Richmond. All custom framing is done on-the-premises in our gallery location. Everything from our large double-mitre saw, for cutting your frame, to our glass and mat cutting operation, and our fitting production is all done on-site. Additionally if you only need cracked glass replaced or other small projects, we're glad to help with the fine details too.
Come by our shop and ask for owner Chris James. He will be happy to oblige and provide you the personalized service his family and West End Gallery is famous for. Or contact us for more information.