West End Art Gallery in Richmond • The West End Gallery Delivers
Within the discreet hills of the Short Pump community in Richmond Virginia is the West End Gallery, a fine art gallery in Richmond VA dedicated to approximately one hundred and fifty art pieces at any given time. West End Gallery is happy to welcome both local, and national artists into its exclusive gallery space, having showcased many pieces from artists such as Amleto Colucci, Erich Paulsen, and Sandra Kuck. The West End Gallery also works with buyers from around the world, quite ready to ship your new artwork directly to you.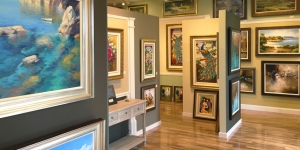 Chris James (son to Pat James, the owner of the family's original art gallery, which was first established in Long Island, New York) founded the West End Gallery in 2001. He was taken with Richmond's "contemporary and moderate" community. And it is that very community that continues to support the West End Gallery to this day.
Today, the West End Gallery continues to expand upon its already impressive collection of works. The art works amassed "strike a chord" with the Richmond community, and exhibits many of the finest traits of contemporary paintings, seemingly envisioning wonderful abstract visions of the world around us, iconic colors and transcendental vividness that create timeless thrills.
Current exhibits feature new canvas works, such as Christie Rennie's newest series, "Maymont In Bloom," by John McLean and as well as a new series by Alex Wang that is sure to draw a crowd among the locals.
West End Gallery also hosts many art exhibitions and events. Upcoming later this year, for instance, is the "Summer Art in Full Swing," exhibit featuring all the latest from a wide-array of artists exploring images and evocations of Summer Delights.
The West End Gallery offers a variety of services in addition to hosting their events and displaying local and national art. Installations are one of their most popular services. The West End Gallery will give your home, living spaces, or corporate atmospheres, a new vital pulse. If you are looking for art to fill that void in the home or office, West End will decorate the space to match the specific location, to create a long-lasting impression on any visitor you pay a company to. Appointments can be made to brighten your living space by contacting West End Gallery directly.
The West End Gallery also offers a "gigantic selection" of unique and rare frames in which to hang your new art piece. Framing can heighten or detract from your art piece. The West End Gallery's staff are there to ensure the life of your new artwork with proper fittings, and a life-long build quality.
Offering fine art prints from local and national artists, West End Gallery is set to deliver what Chris James and his family have done since the sixties: taking their love of art and turning it into a heritage-collection of masterpieces, made available directly and easily to you.