Decorating Your Home or Office
You want your home or professional office to look its best and we are here to help. When we consult with you, we get a feel for what artwork fits your needs and show you artwork in our inventory which would be a good match.
View below just a few of our many decorating projects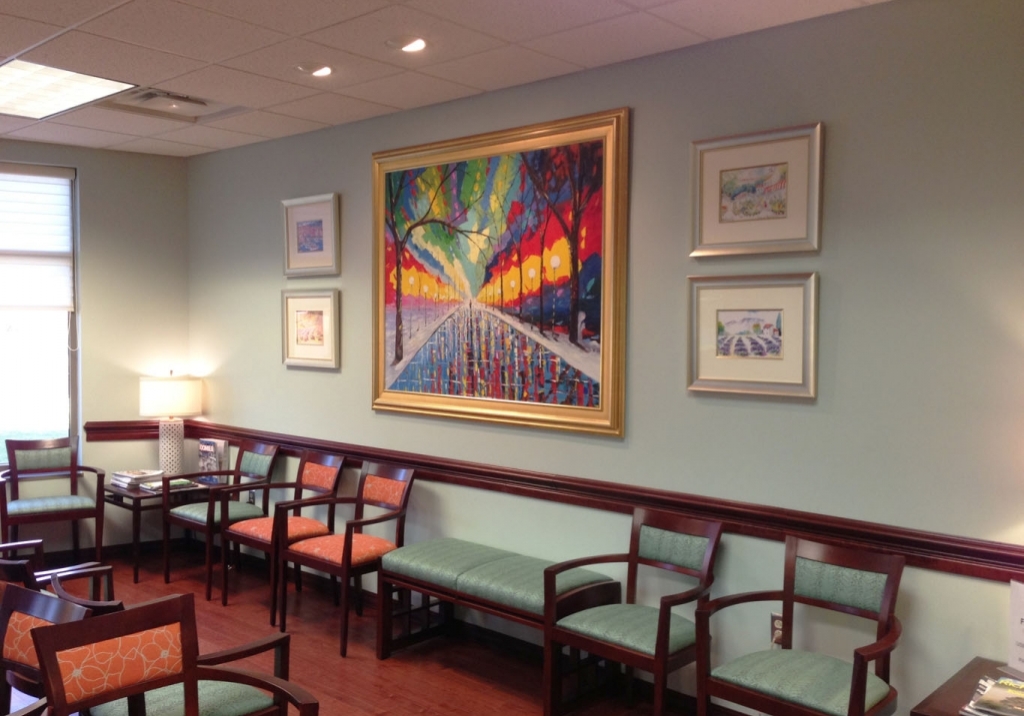 Corporate Installations
Our artwork and framing hangs in a number of professional, financial and medical offices in Richmond. Some corporations are going for an understated or contemporary look. Others are looking to bring some color to their workplace fora lively personality. Some businesses want a reserved, warm traditional look.
We will discuss your needs and workup a plan to decorate to your taste.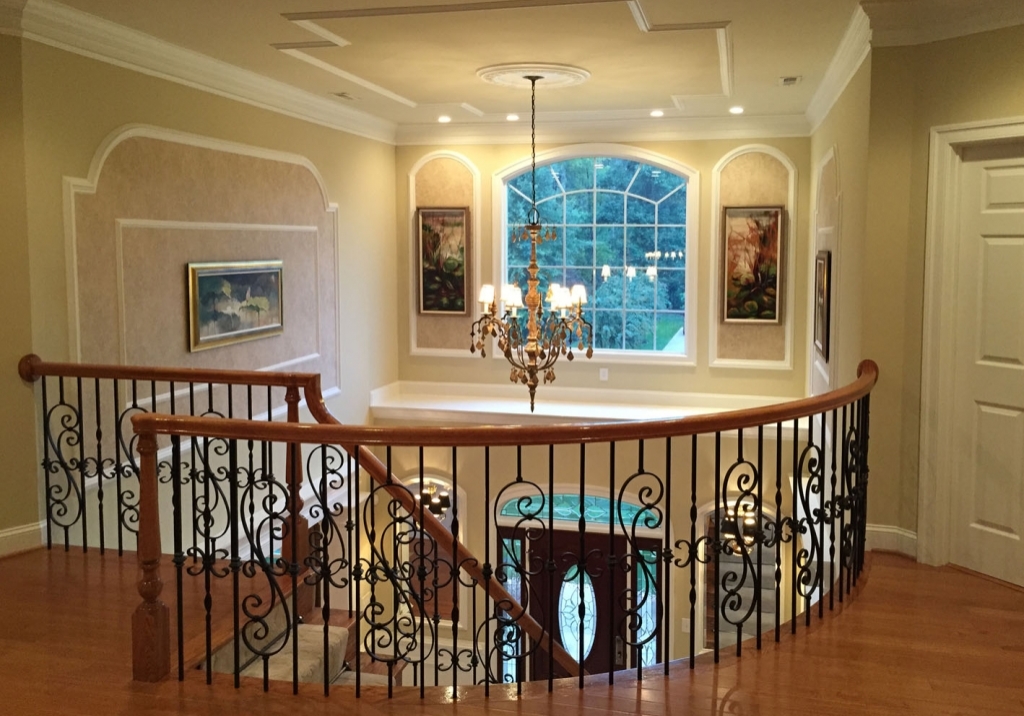 Foyers
While not every home has a large foyer, those that do need art to enhance the space and lead the eye. This can be done with one individual large piece or multiple smaller complimentary pieces. The foyer gives the first impression of your style and its our job to make the best impression possible. This image shows multiple complimentary paintings which we decorated this client's large beautiful foyer with, to fit within the existing decorative wall moulding.
Dining Rooms
The dining room is where family and friends meet and enjoy each other's company. This location is important to have an impactful piece of artwork, one which sets the mood for your entertaining. Formal paintings look great in many settings, as well as simpler open landscapes with color. We decorated this client's home with wine artwork framed formally for this formal dining room.There are so many options which are great for a dining room depending on the tone you want to set for your guests.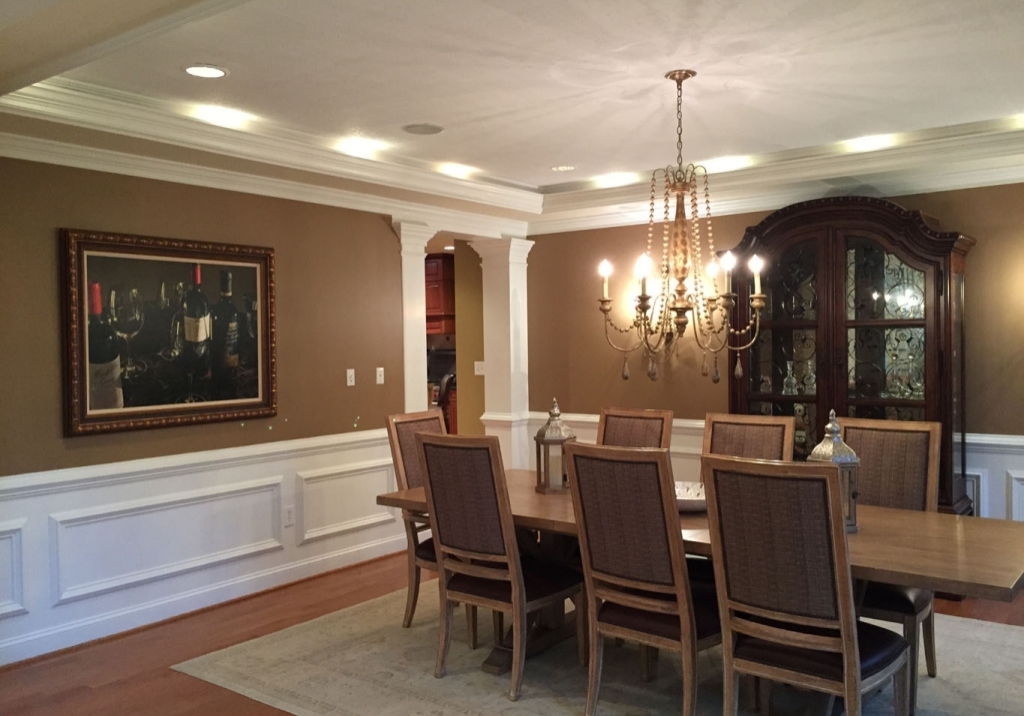 Living Rooms
The living room is where company comes to relax and share stories. You can convey many things simply with which artwork you choose. Some living rooms need contemporary simplicity. Others need a warm and welcoming traditional artwork. Others need bright, inviting color. We decorated this room with a triptych (set of three) to compliment this transitional living room for a simple, welcoming setting. A series of two or three can fill a large space with variety, while other times a single larger painting is appropriate.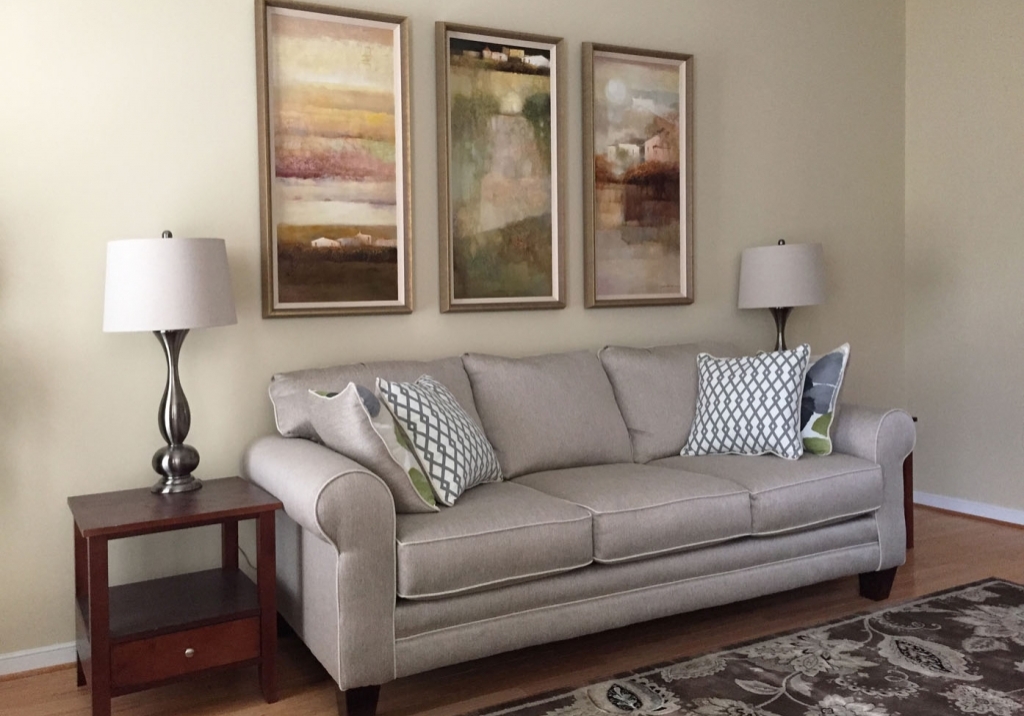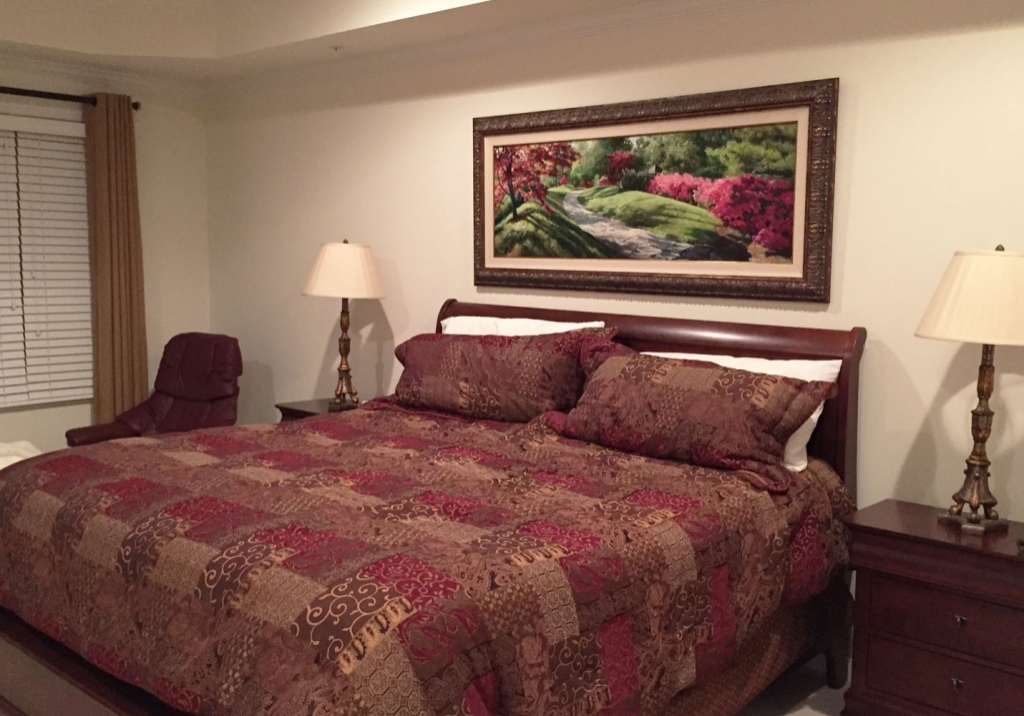 Bedrooms
The master bedroom is where your art selections become more personal. You may want to wake up to a breath-taking rolling landscape. Or a bright floral maybe what inspires you in the morning. Perhaps an abstract helps clear your mind before bedtime. This example shows one of our stunning Maymont gardens paintings which suited the space and colors perfectly. We bring many great options over to find what art suits your needs in your personal space.
Hallways
Some hallways need minimal attention while others are prime to add impact and color. Hallways offer a lot of flexibility for either bigger or smaller paintings. In this example, this stunning bold floral adds great impact in this hallway. We love to decorate hallways with art that works, which depends on the openness of the hallway. Each hallway wall is unique.
Studies
Study rooms are anything from simple and functional offices to a relaxing escape from a busy household. These rooms can be made more formal or less formal and can be decorated to your specific taste to fit your preference. Some studies have rich and dark wood paneling, while others are brighter. In this example, our client has a beautiful reading study decorated with a variety of artwork they fell in love with.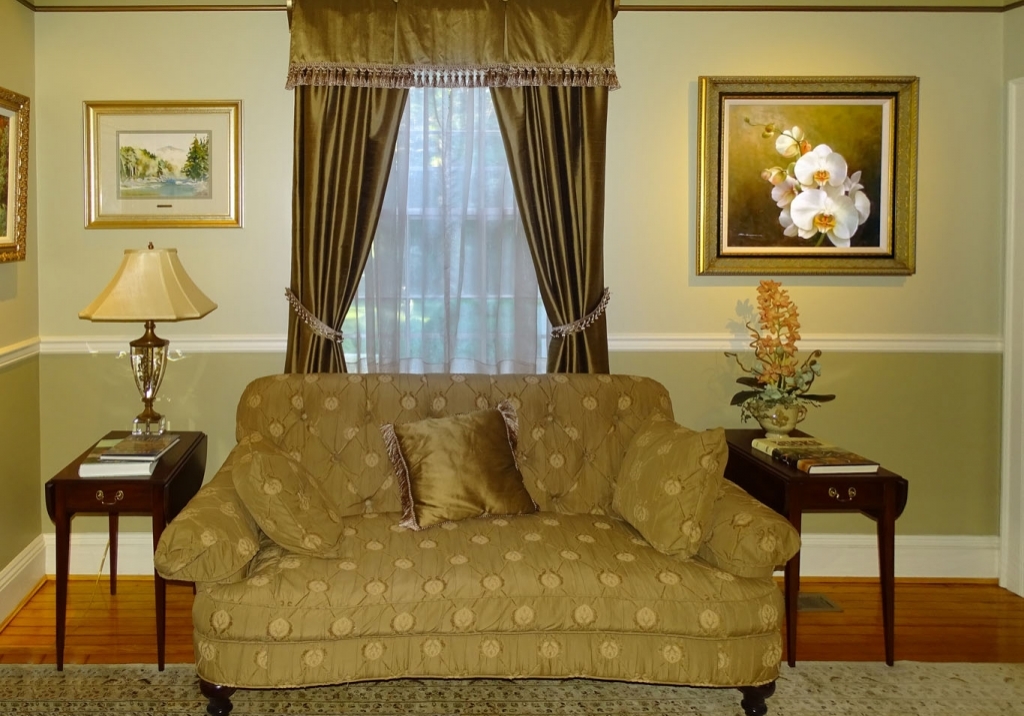 Sunrooms
Many homes have a sunroom which is limited on wall space. For those lucky enough to have room to display artwork, we recommend pieces which fit the unique theme of your room. In this example this rustic textured rock wall was the perfect place for a scenic, trickling water scene. The painting is complimented with a rustic-ornate outer frame with an inner frame of a taupe-burl scoop and a distressed inner gold fillet.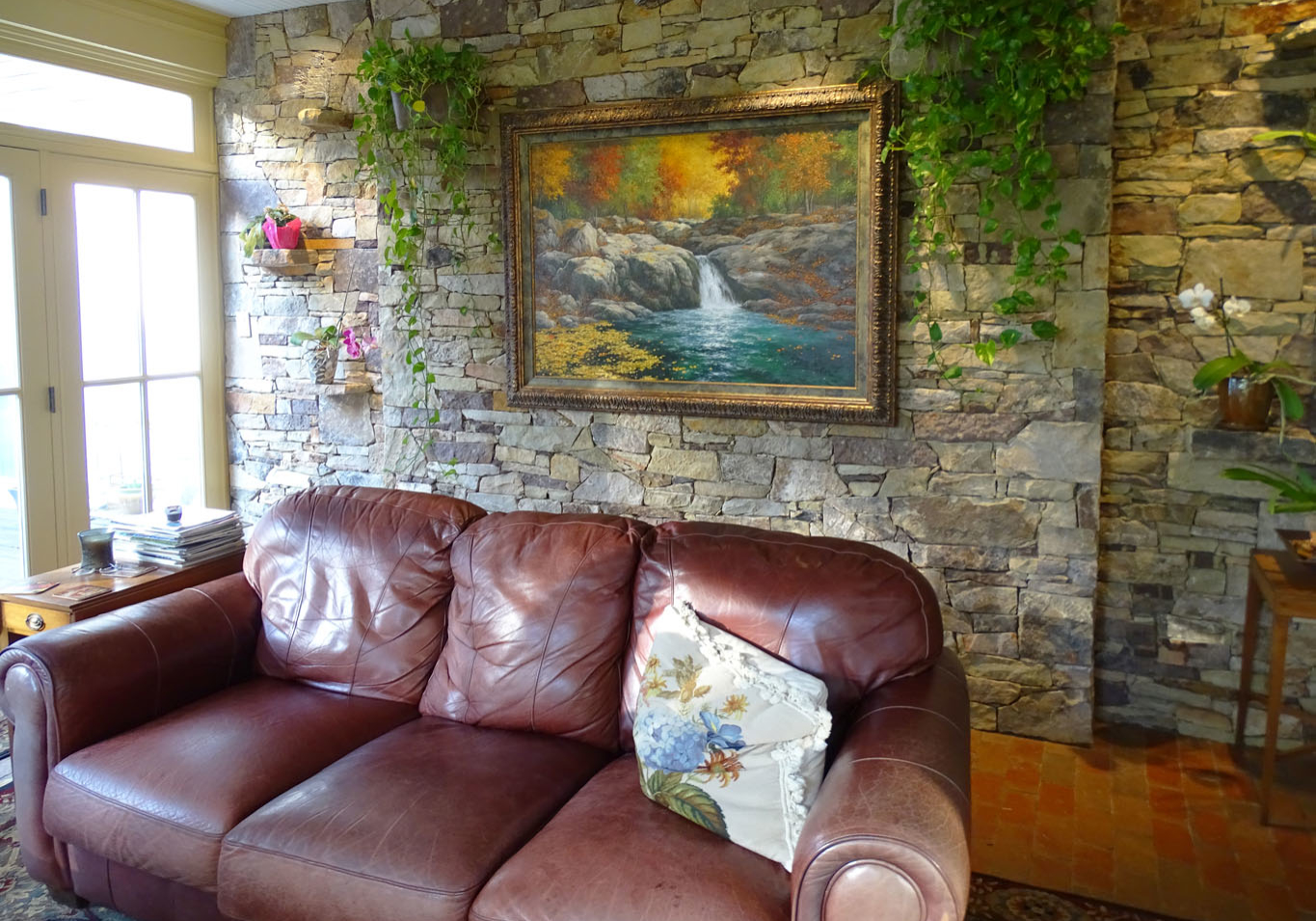 Appointments
Contact us today to schedule an appointment with gallery owner Chris James, or visit West End Gallery at your convenience. We look forward to decorating your home or office with artwork that expresses the look you want to convey.