A BEAUTIFUL FINE ART GALLERY IN THE HEART OF RICHMOND'S SHORT PUMP,
WITH A LONG FAMILY HISTORY DATING BACK TO 1967.
West End Gallery is a fine art gallery Richmond VA located in the bright, lively shopping area of Short Pump. We offer approximately 150 works on display at any given time from local, national and international artists, and display mostly oil and acrylic paintings, as well as limited editions.
We guide collectors towards works which fit the look they want to enjoy or convey, and we gladly deliver and install any artwork we sell. Also, we are happy to bring of a number of artworks over to ensure your favorite piece in the gallery is also your favorite piece at your home or office. Visit our Decorating page to view some of our installations.
We carefully chose our location in Short Pump due to its very friendly and safe environment, great business neighbors and ease of access from 64, 295 and 288. For many nearby, we're only a moment's drive away, across the street from the mall. For those elsewhere in Greater Richmond, we've found that the maximum it typically takes is 20 minutes to get to the gallery. We're also very convenient to those in Goochland, Ashland, Southside and even Charlottesville.
Those unable to visit the gallery, we regularly ship artworks sold to collectors out-of-state or outside of the United States. We gladly arrange to get our artwork to you, wherever you reside.
Read more about our family's almost 50 years in the art business on the History page.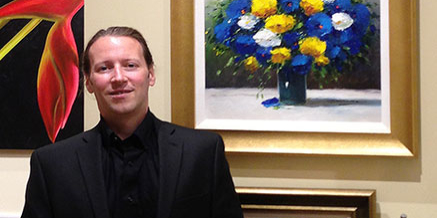 Chris James, Owner, West End Gallery
In 1987 Chris began working in the original family art gallery, and has owned West End Gallery since 2001.
West End Gallery
is rated
5

out of

5

based on

16

reviews from around the Web.
Amazing job! Brought in 3 pictures to be framed and was shown multiple options all of which looked amazing with the portrait. No pressure selling at all and...

Chris is amazing. He can take an "average" work of art and turn it into something extraordinary with his framing expertise.

best in the area - 1st class

Fantastic store!!! Owner was great!! Came in with damaged Kincaid frame - he fixed it quickly on the spot & didn't even charge us! Will definitely be...

I have had 3 concert posters framed here and I'm waiting on a fourth to be completed. Chris, Bryant and his team cease to amaze me. Their attention to detail...

The owner has framed multiple prints of mine and each framed piece looks wonderful. He has always gone out of his way to explain options and pricing in order...

Very professional, always courteous, great to work with. I always take my art there to be framed. Wonderful gallery too.

Beautiful gallery. Highly recommend this gallery.

I'm a pretty price conscious individual and was a little shocked the first time I got a quote on a frame. That said, since I got back that first piece (and...

Buy it for life quality with a super friendly and helpful local shop!

Shopped around for quite a while before committing to a professional framer. So glad we did! We received exceptional service at West End Gallery! Chris and...

Excellent first impression. Looking forward to doing business with Chris in the future.

Definitely recommended! The owner and his new employee are both very friendly and full of helpful suggestions. When it comes to framing, they seem to enjoy...

The owner has framed multiple prints of mine and each framed piece looks wonderful. He has always gone out of his way to explain options and pricing in order...