Gerhard Nesvadba's Stunning Artwork • Austria's Best Art in Richmond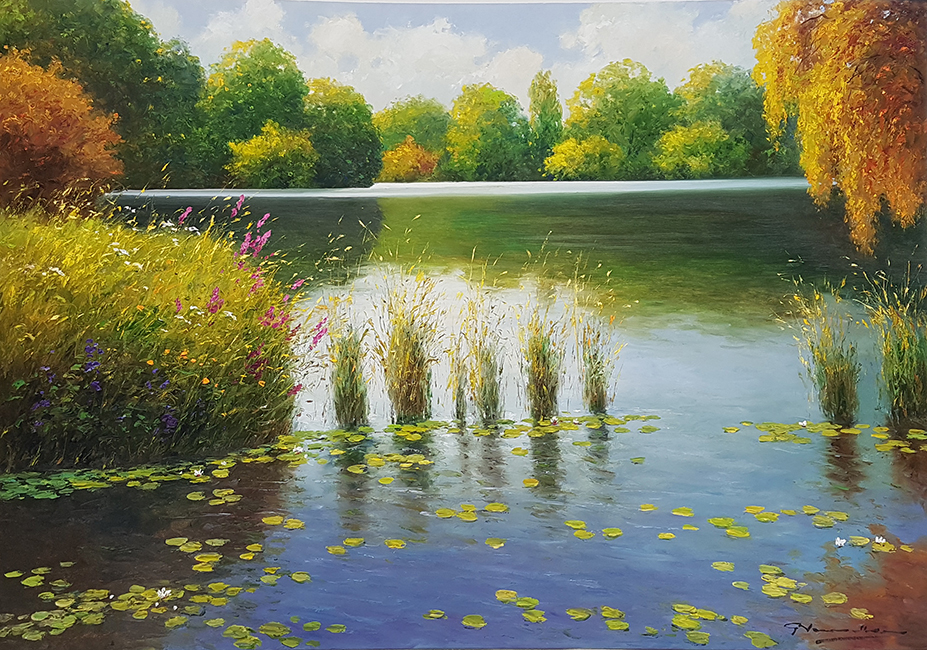 Artist Gerhard Nesvadba is known for having an exceptional use of vibrant color, frequently invoking "Oh, wow!",  "Stunning!" and even one time a visitor hugged the landscape and purchased it.  To put it in one word:  Gerhard's paintings are known simply as "happy".
Born in Germany, moving in his childhood moving to Austria, Gerhard Nesvadba's paintings of European landscapes and beautiful impressionist florals have found countless collectors in Richmond, and while his paintings are of various countrysides in Europe, collectors here in Virginia have loved that the paintings also accurately represent the valleys, streams and hillsides Virginia's rolling hills and mountainsides.
Additionally, Gerhard's florals are known to be spontaneous and loose in approach, with its impact from his use of color and texture.   Often a Gerhard Nesvadba landscape on a larger wall will be complimented either by one of his smaller landscapes or florals.
Gerhard Nesvadba's flexibility on painting a custom sized piece is impressive.  If one of West End Gallery's customers needs an existing or previous painting of Nesvadba's in a different size, he will paint it to the size needed.  Gallery owner Chris James is glad to visit your home or office to consult on the appropriate finished (framed) size, and can work out the math for a custom commissioned painting.  While there are inherent differences between paintings, the essence is captured accurately, for your a painting which only exists because of you.
View our collection of Gerhard Nesvadba paintings online, but be sure to see them in person as they are more beautiful in real life, and we may have new paintings yet to be added to the website.  For customers in and around the Richmond area, we gladly bring your favorite painting to try on your walls to make sure it looks as beautiful at home as it does in our gallery.
We look forward to introducing you the beauty of Gerhard Nesvadba's fabulous artwork.